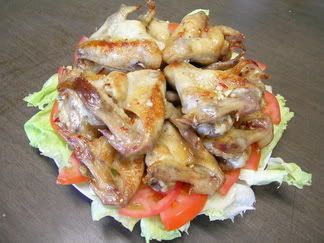 Ingredients:
-1-1 1/2lbs chicken wings
-1/2 garlic
-1 shallot
-1/2 tsp each: salt, sugar, fish sauce, pepper
-1 recipe
basic fish sauce
-watercress or tender lettuce, tomatoes
What to Do:
Mince garlic and shallot.
Mix chicken wings with garlic, shallot, fish sauce, salt, sugar and pepper and marinate for at least ½ hour. Wash watercress and tomatoes and arrange on a serving plate. Deep fry the chicken wings until golden and dip in
fish sauce
for 30 seconds. Arrange chicken wings on watercress salad and serve.